What's New for 2020 at RE/MAX of Nanaimo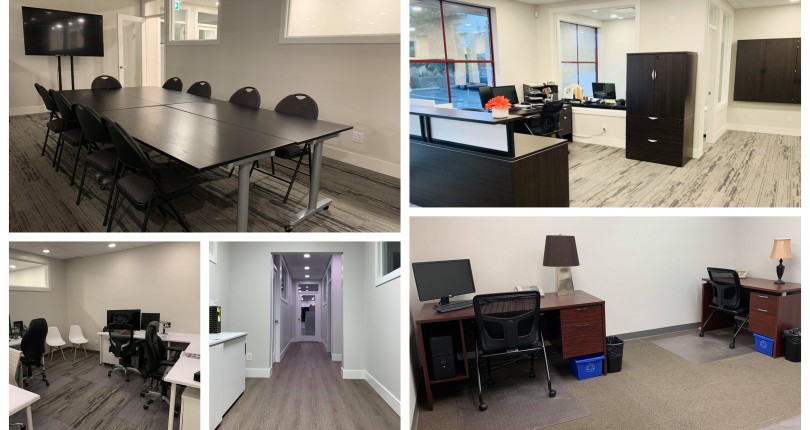 Our REALTORS® were actively connecting families with homes right up until the last day of 2019, meanwhile the office was busy expanding and creating new spaces for them to do just that.
What's New for 2020
We've been busy at work on our expansion and over the past few months and the Christmas season, and are happy to announce we've launched 4,000 square feet of new space at RE/MAX of Nanaimo. This new space includes:
10 new REALTOR® offices. 13 of our REALTORS® moved into 10 new offices. Some have moved 4-8 times, in time we've had the pleasure of working with them. Now they've landing in their favourite office of all time! The 13 other spaces REALTORS® moved into were also highly desirable.
Larger, brand new Property Management office. The newly expanded Property Management office is a larger, modern space with external doors. This makes it more convenient, and confidential, to list your rental home with us or find the rental house you'll call home.
Multipurpose boardroom. The new multipurpose boardroom can transform to host team meetings, training, open house and social events and more. With group training every month, and sometimes weekly, this space will come in very handy!
Drop in centre. Many of our REALTORS® work from home offices or remotely. Adding this new drop in offices space is so vital to the wellbeing, and success, of our REALTORS® that work from home.
In addition to our existing client rooms, we now have a drop in centre where REALTORS® can stop in to work when picking up their marketing, meeting with colleagues, or to use the amenities. It has been a revolving door since it opened.
Thank You
This couldn't have happened without all the hard work and expertise of the trades and staff that made it happen. Jodi, Administration Manager, Tim, Maintenance Manager and Greg, Director of Technology, who spearheaded the smooth transition and Tanya, our Front Office Administrator who kept our spirits up during the disruption. A special thank you to Karly Parker Interiors and Windley contracting.
We are so very grateful for every one of our realtors, staff, contractors and the community we work with and are excited about 2020!
We wish you and yours a spectacular 2020!
---
Have questions or wish to contact one of our REALTORS® or Property Management Team?
Call (250) 751-1223.