RE/MAX of Nanaimo Rides for Heart & Stroke Research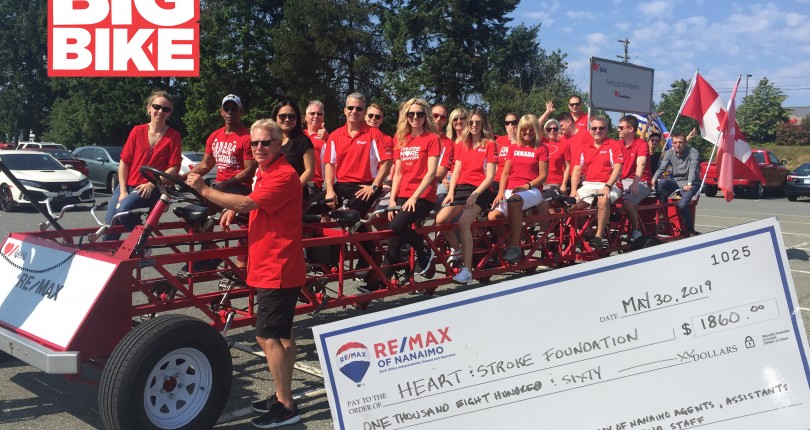 RE/MAX of Nanaimo REALTORS®, Staff and Assistance Donate Over $1,800 and Ride for Heart & Stroke Research
Stopping traffic in support of critical heart disease. Nanaimo Rides for Heart & Stroke Research.
Nanaimo, BC, May 29, 2019– RE/MAX of Nanaimo makes an annual difference with the Heart and Stroke Foundation by helping to fund research that's saving lives and supporting heart disease and stroke survivors and their families. 29+ RE/MAX of Nanaimo REALTORS®, staff, and assistance made a donation to the Heart and Stroke Foundation of Canada and stopped traffic to support critical heart disease and stroke research.
This week RE/MAX of Nanaimo Affiliates raised $1,860 for heart disease. In the past five years, RE/MAX of Nanaimo Affiliates have donated over $10,000 for this important cause.
"It's a priority for our REALTORS®, Assistants and staff to give back to the community in which we live and work," said Angela Readings, In-House Graphic Designer at RE/MAX of Nanaimo. "I've had the privilege of organizing this event for the past four years and it's encouraging to see our participation and awareness grow."
This year we rode in honor of our very own Lindy Cousins. By participating, you too can help make a significant impact on the lives of those affected by heart disease and stroke in Canada.
For more information about the Heart & Stroke Foundation or RE/MAX of Nanaimo please visit https://remaxofnanaimo.com/corporate-social-responsibility/ or call 250-751-1223.
# # #
About RE/MAX of Nanaimo:
RE/MAX of Nanaimo is a locally owned and operated full-service real estate brokerage located in Nanaimo and specializes in commercial and residential real estate. RE/MAX of Nanaimo is a proud supporter of Children's Miracle Network Hospitals, Susan G. Komen®, and other charities, and is located at 1-5140 Metral Drive, Nanaimo BC. To learn more, please visit www.remaxofnanaimo.com.
---
Contact us at (250) 751-1223