What is a Studio Apartment? The Benefits and Challenges.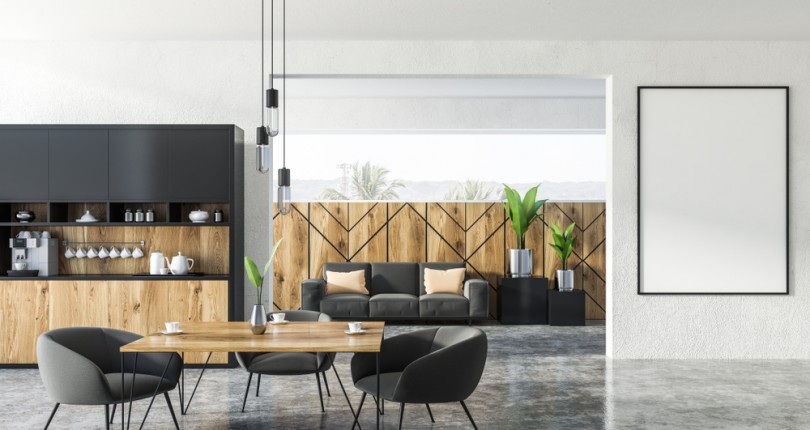 If you are single and looking for the ideal place to call home, a studio apartment might be the perfect option for you. Also known as bachelor apartments or less commonly, efficiency apartments, these little units provide everything you need in a living area. Here is an overview of what a studio apartment is and the pros and cons of studio life.
What is a Studio Apartment?
The studio apartment offers the ultimate in urban spaces. It could even be the inspiration for the tiny house movement. It provides everything you need in one large room that is akin to the urban loft. You live, eat, and sleep in one central area with a separate room found where it's needed – the bathroom. Your living room, bedroom, and kitchen area provide a cozy and practical living space ideal for today's downsizing movement.
The Benefits of Studio Apartments
Due to limited square feet, first and foremost, a studio apartment is far more affordable to rent or buy when compared to a one bedroom. That is appealing to those who really want to experience living alone without having to depend on a roommate. You also save money on furniture as you will have less space. Even home décor is more affordable with less need for items such as area rugs, window treatments, and wall art.
Studio apartments are also eco-friendly as they create a smaller carbon footprint by consuming less energy, which translates into savings on your energy bill. Studios also tend to have a lot of natural light with one large window. That can also help reduce your energy bills with less electricity used to light your home in the day. It is the ideal home for people who are trying to limit their consumption of material items. It is also far easier to maintain and clean a studio apartment due to the size.
Couples can and often do live in studio apartments. It is the ideal tiny home solution for couples who want to downsize in all aspects of their lives, and they can still live in the city.
The Challenges of Studio Apartments
Although living in a studio apartment has many benefits, there are also some challenges that you might find annoying. Living in a small space is not for you if you own a lot of "stuff." It will build up quickly and finding storage will be very challenging. People who might find studio life difficult would be clothes horses, shoe addicts, athletes with a bike or sports equipment, avid collectors of albums and books, and even techies with excessive electronics and gadgets. Space is limited everywhere including closets, counter space in the kitchen and bathroom, and floor space.
Shop-a-holics might also not be suited to a studio apartment. With limited space, you have to rethink every buying decision you make. That actually can be a benefit as well, since you will end up saving money.
That shortage of storage can lead to something a neat freak can't and won't be able to live with: clutter. Living with clutter is very stressful for most people. You might find that life in a studio apartment starts to spread itself out in a very undesirable fashion. It is not uncommon for everything in your closets to start leaking out into your living space.
You might also have to sleep on a less than comfortable bed if there's not enough space for a bed and a full-sized couch. That issue will vary based on the apartment, so always bring a measuring tape when you are considering renting or buying a studio apartment. This step is really important if you are moving from a larger home into a studio. You might want to take your fair share of belongings only to find most of it won't fit.
Last but not least, if you enjoy entertaining larger groups, this tiny space might not be for you.
Adjusting to Living in a Studio Apartment
If living in a studio apartment is your only choice financially, there are many ways you can get around the shortage of space. One is to compare the price of a one-bedroom apartment to a studio in hand with renting a storage space. You might find in some cases this option is still more affordable than the one-bedroom option.
Some other creative ideas to leverage limited space include:
Look at ways to take up space vertically for additional storage. A full wall storage unit from floor to ceiling often provides much-needed storage in a studio apartment.
Use hooks on the walls in your entryway to provide easy storage for coats and accessories. You can place a bench that acts as seating and storage for items such as shoes and winter scarves, hats, and mitts if it fits.
Hunt for double-duty furniture pieces. A nightside table should have drawers for your socks and underwear; a coffee table should have drawers or shelves as well as adjustable height to be turned into a dining room table; a dining table should also work as a desk; an ottoman can provide storage as well as seating when you have guests.
Use organizers wherever you can, such as shoe racks that hang on the backs of doors, bedside or couch organizers for magazines and TV converters, and so on.
Always put things away so that you avoid the dreaded clutter build up.
Limit purchases to needs instead of wants to avoid being overtaken by your belongings.
Shop smart for groceries with a focus on fresh items you can store in your fridge to help free up more cupboard space. That is also better for your waistline!
Limit kitchen gadgets.
Look for funky foldable chairs you can hang up and take down when you have guests.
Take advantage of wasted wall space above your toilet by adding shelving or a storage unit designed especially for this spot.
So, what is a studio apartment ideally suited for? It is the ideal space for living alone but can also be suited for couples who are looking to try life out in a tiny home. Clearly, the studio apartment is not for everyone. However, whether you are leaving home for the first time, are escaping roommates or want to downsize, the studio apartment offers a cozy place to hang your hat.
---
Original source: McCall Capozzi,  RE/MAX Western Canada